Hottest IT Jobs for 2012 (according to Bluewolf) – BI Developer in top 3
Bluewolf has identify the top IT positions in demand for 2012 and not surprisingly Business Intelligence (BI Developer position specifically) occupies number 3 on the list with salary ranging from $108,000 to $121,000 (see image below or a full press release HERE). That is an excellent news for all professionals involved or seeking to get involved in various BI projects as it clearly shows the growing trend of Business Intelligence field going from strength to strength after many years of plateauing due to global financial circumstances or the businesses' inability to take advantage or understand the benefits it offers.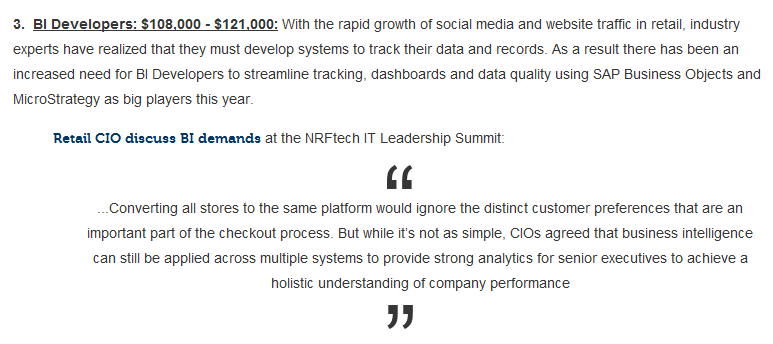 http://scuttle.org/bookmarks.php/pass?action=add
This entry was posted on Friday, March 9th, 2012 at 1:46 pm and is filed under This-and-That. You can follow any responses to this entry through the RSS 2.0 feed. You can leave a response, or trackback from your own site.