2013 Magic Quadrant for BI and Analytics Platforms Released by Gartner
This time I am a little bit late off the mark but thought that the news is still timely and topical. The 2013 Magic Quadrant for BI and Analytics platform got released by Gartner and it seems that the dominant theme for 2012 was data discovery and predictive analytics. In my opinion, this is likely to continue if not intensify in 2013 as self-service BI, coupled with predictive modelling, simulation an data mining will slowly start making inroads into what is considered as standard BI capabilities. Anyhow, a copy of the quadrant is as per the image below and full report with detailed description of each vendor can be accessed form HERE.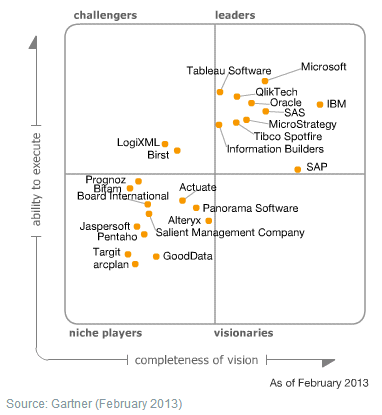 http://scuttle.org/bookmarks.php/pass?action=add
This entry was posted on Wednesday, March 27th, 2013 at 3:54 am and is filed under This-and-That. You can follow any responses to this entry through the RSS 2.0 feed. You can leave a response, or trackback from your own site.